O'Neil's Arts Custom Hand Blown Glass and Metal Forging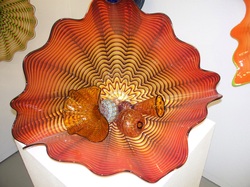 O'Neil's Arts has been serving the Washington community since 2000. We specialize in custom hand blown glass. Stan O'Neil, Artist, continues to add to his skills of working with hot glass. He is frequently in his studio improving his blowing and glass sculpting skills. In addition to working with hot glass, Stan also is a very talented metal worker. He is always trying to combine the two skills to come up with unique art projects. Our gallery has many of our own custom items on display in addition to artwork from some local artists. We are a family owned and operated studio offering quality products and service you can count on. Whether you need custom metal work, custom blown art glass for your home or office , or a gift from our gallery, we have many items for you to choose from. At O'Neil's Arts, our goal is to provide you with courteous, expedient, professional service of the highest caliber. Browse our Web site for more information about O'Neil's Arts. If you have any questions or would like to speak with us, please e-mail us at stan@oneils-arts.com or call us at:
360-941-7557
At O'Neils Arts we aim to please! We hope you can visit our gallery someday!!
---